Chicago
Every Friday night, a group of teens called, "Warriors of Peace" gather at St. Gall parish in Chicago. They live in a neighborhood on the South Side, called Gage Park. It's a neighborhood where teens see gun violence, gangs, drugs and alcohol abuse. One of the young adults leaders explains that this ministry offers the neighborhood's young people the chance to have a safe space to express themselves and develop their faith. "We meet every Friday to try to inspire and move hearts with the grace of God," says Alberto Rodríguez, 25. "Our vision is to inspire our youth in the neighborhood, so they can be leaders like Christ and to love like Christ."
As a leader, Marie Nan Ramireza says, "In a world where people may see a basement with teens who are just hanging out, I see a basement filled with hope."
This hope comes from teens like George Alvarez, 16, who said, "I feel like God has been calling me to help not only the community but at my own house."
Jorge Rivera, a Maryknoll mission educator, points out that the Warriors of Peace have a great zeal for mission and the teens are very engaged in the social issues of their community.
"They are involved and supportive of their family and neighbors," he says.
Peace starts for the group first in the basement as they create a safe place for themselves to gather, pray, and then they go forth to bring peace to their homes and neighborhoods.
To read more about the Warriors of Peace, see their photos, and hear the voice of one of their leaders follow this link to Maryknoll Magazine.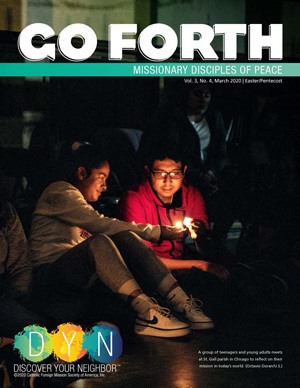 GO FORTH
EDUCATOR'S GUIDE
Download the COMPLETE 2020 Go Forth Educator's Guide.
[tcb-script charset="utf-8″ type="text/javascript" src="//js.hsforms.net/forms/v2.js"][/tcb-script][tcb-script] hbspt.forms.create({portalId: "4277556",formId: "f4d358f1-17ff-4be1-a12a-4319b5772151"});[/tcb-script]