The night before the elections Mrs. Hall assigned the class to make a non-partisan sign to encourage others to vote. The students showed up for class with all kinds of signs the next day. Eagerly the 7th grade class at Christ the King School in Seattle then walked down the street to their neighborhood ballet drop-off box. As voters dropped off their ballots, the students cheered them on. A local TV station covered their story and said the students were not only inspiring; they reminded people to vote.
These students remind us that missionary discipleship can take many forms. It may involve actively working for the common good or simply encouraging others who are. Christ the King School is participating in the Maryknoll Missionary Discipleship Institute in Seattle.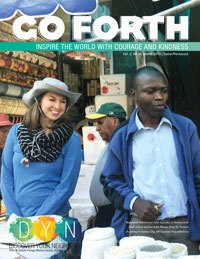 GO FORTH
EDUCATOR'S GUIDE
Download the COMPLETE 2019 Go Forth Educator's Guide.
ACCESS NOW