Alejandro Cordoba's friends jumped into the back of his Toyota truck to meet up with Fr. Ted Custer, M.M. and his truckload of volunteers. They were headed to Lake Macanche in Guatemala for a parish clean-up operation. Their mission: to pick up plastic garbage. Once the image of a pristine paradise, the lake was now starting to suffer from the effects of human behavior from the nearby villages.
Alejandro shook his head in dismay as he watched a dump truck being washed in the lake, with grease and oil flooding the waters. He also saw women washing clothes with the detergent seeping into the water. He shook his head again and said, "Poor fish."
The group began to work and filled several large bags of items thrown away on the shores of the lake. The last stop for the group was the recycle center. As they headed home, they took pride in knowing at least for today they had done their part to maintain paradise.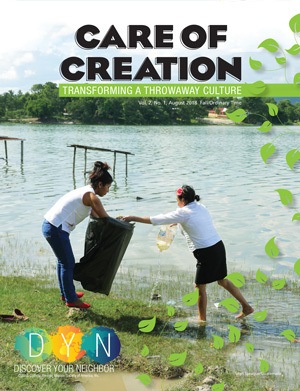 CARE OF CREATION
EDUCATOR'S GUIDE
Download the COMPLETE 2018 Care of Creation Educator's Guide.
ACCESS NOW