During Lent, we remember those who continue to be crucified. Students will be able to
DEFINE "human trafficking" and give some examples of it.
IDENTIFY one step that the student can take to have a positive effect on eliminating human trafficking.
UNDERSTAND how our faith calls us to respond to human trafficking through doing research, listening exercises, and presentations designed to give practical ways to break the bonds of human trafficking.
INVITE students to commit themselves to concrete action in eliminating this problem.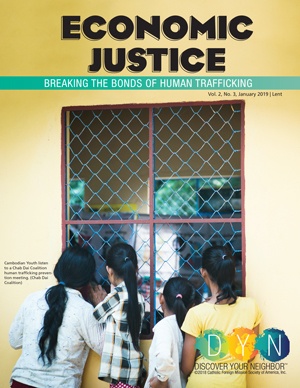 ECONOMIC JUSTICE
EDUCATOR'S GUIDE
Get DYN's Educator Guide for
Middle School and K – 5
ACCESS NOW