Theme: Missionary Disciples of Peace
OBJECTIVE: Students will be able to:
DEFINE "safe spaces" and begin to
CREATE them in their community.
RESEARCH, DESIGN, AND PRACTICE methods for peaceful dialogue.
PROMOTE WAYS their community can inspire peace in schools, churches and the wider community.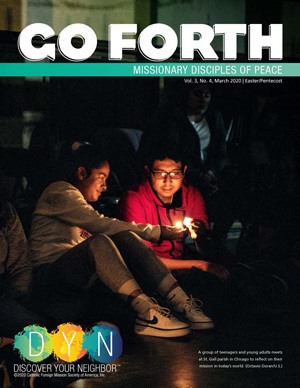 GO FORTH
EDUCATOR'S GUIDE
Download the COMPLETE 2020 Go Forth Educator's Guide.
[tcb-script charset="utf-8″ type="text/javascript" src="//js.hsforms.net/forms/v2.js"][/tcb-script][tcb-script] hbspt.forms.create({portalId: "4277556",formId: "f4d358f1-17ff-4be1-a12a-4319b5772151"});[/tcb-script]