Create a Peace Pole in your community. A Peace Pole unites groups in solidarity to promote peace. Create a pole together and include on it the words "May Peace Prevail on Earth" in many languages.
Invite others to a ceremony that encourages all those gathered to work toward peace. INSTAGRAM @DiscoverYourNeighbor use the hashtag #MERCYis.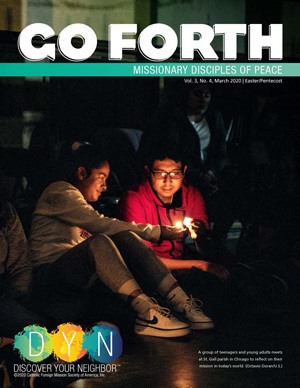 GO FORTH
EDUCATOR'S GUIDE
Download the COMPLETE 2020 Go Forth Educator's Guide.
[tcb-script charset="utf-8″ type="text/javascript" src="//js.hsforms.net/forms/v2.js"][/tcb-script][tcb-script] hbspt.forms.create({portalId: "4277556",formId: "f4d358f1-17ff-4be1-a12a-4319b5772151"});[/tcb-script]