READ ONE OF THE FOLLOWING
OLD TESTAMENT: Genesis 2: 4-15
LIFE OF JESUS: Matthew 6:25-34
CHRISTIAN LIVING: Romans 8:18-22
REFLECT: What does this reading say to you about the relationship and responsibilities between humans, creation and God? How do we not only serve each other but also creation?
READ the Scripture, CIRCLE the words that catch your attention. What is it about those words that strikes you? CREATE a prayer using some of the words you selected that shows your commitment to caring for creation.
WHAT DOES THE CHURCH SAY?
In Laudato Si' Pope Francis appeals to all of us to "recognize the need for changes of lifestyle, production and consumption. These are closely linked to a throwaway culture which affects the excluded just as it quickly reduces things to rubbish." Laudato Si' 22-23
"The earth, our home, is beginning to look more and more like an immense pile of filth. The climate is a common good, belonging to all and meant for all." Laudato Si' 21 & 23
"Young people demand change. They wonder how anyone can claim to be building a better future without thinking of the environmental crisis and the sufferings of the excluded. We know that things can change. Humanity still has the ability to work together in building our common home." Laudato Si' 13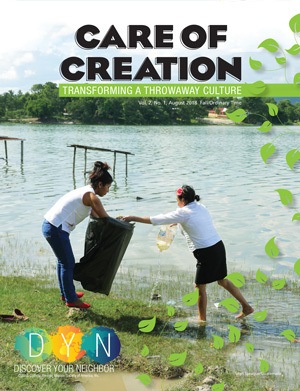 CARE OF CREATION
EDUCATOR'S GUIDE
Download the COMPLETE 2018 Care of Creation Educator's Guide.
ACCESS NOW