READ ONE OF THE FOLLOWING:
Old Testament: Isaiah 2: 3-5
Life of Jesus: Matthew 5:38-41
Christian Living: 1 Cor 12:3B-7, 12-13
REFLECT: These Scriptures tell the story of how God invites missionary disciples to be instruments of peace. How do you think this message is relevant in today's world? What gifts, talents or abilities do you have that you can use in your community to avoid violence and build peace? At Pentecost the Holy Spirit came to help the disciples, Where do you need the Holy Spirit's help to become a peacemaker?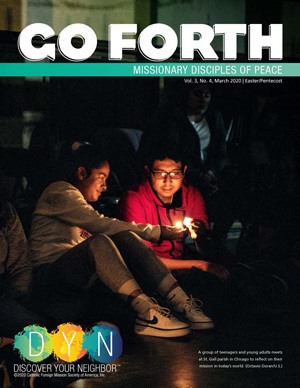 GO FORTH
EDUCATOR'S GUIDE
Download the COMPLETE 2020 Go Forth Educator's Guide.
[tcb-script charset="utf-8″ type="text/javascript" src="//js.hsforms.net/forms/v2.js"][/tcb-script][tcb-script] hbspt.forms.create({portalId: "4277556",formId: "f4d358f1-17ff-4be1-a12a-4319b5772151"});[/tcb-script]