In both stories from Kenya and Chicago the community has come together to create peace in times of violence and uncertainty. Take action by inspiring peace in your group/class by reaching out to the wider community.
RESEARCH active listening skills, peace circles, restorative justice, building trust, and conflict resolution techniques.
DEVELOP ground rules for your group based on your research.
ROLE PLAY conflicts using your group rules (choose fake conflicts to role play).
EVALUATE how your group did by using peaceful methods in your role play. Once you feel that the group is ready to take the next step
PLAN a time when the group will meet regularly to have intentional dialogue where everyone is listened to and affirmed.
Once the group BUILDS skills on how to have peace dialogues, share what you have learned with your school or church, INVITING them to practice peaceful dialogues.
Then FORM a team of the larger group and share what you have learned with your local community and local governments.
ADDITIONAL RESOURCE ON PEACE EDUCATION HERE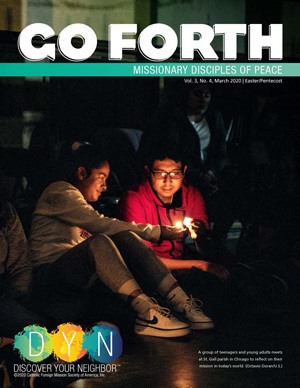 GO FORTH
EDUCATOR'S GUIDE
Download the COMPLETE 2020 Go Forth Educator's Guide.
[tcb-script charset="utf-8″ type="text/javascript" src="//js.hsforms.net/forms/v2.js"][/tcb-script][tcb-script] hbspt.forms.create({portalId: "4277556",formId: "f4d358f1-17ff-4be1-a12a-4319b5772151"});[/tcb-script]