READ ONE OF THE FOLLOWING:
Old Testament: Exodus 3:7-10 Exodus 23:9
Life of Jesus: Matthew 2:13-23
Christian Living: Hebrews 13:1-3
REFLECT: What does this passage say about how to treat someone who is a stranger or foreigner? How might you apply this passage in your life, the life of your school, or the life of your community?
SHARE WITH A PARTNER: Who in your life has shown you love? How did they show you this love?
SHARE AS LARGE GROUP: On large paper make two columns and label the first Who and the second How.
Invite partners to share. Record responses. What have we learned about love from this exercise?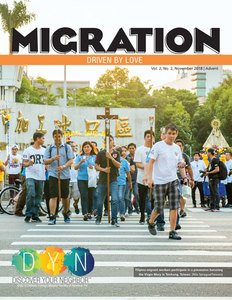 MIGRATION
EDUCATOR'S GUIDE
Get DYN's Educator Guide for
Middle School and K – 5
[tcb-script charset="utf-8″ type="text/javascript" src="//js.hsforms.net/forms/v2.js"][/tcb-script][tcb-script] hbspt.forms.create({portalId: "4277556",formId: "d25d305e-89b8-4178-87f3-985798455c61"});[/tcb-script]